10 Years of RWA Broiler Production
Kristy Nudds
Features
Profiles
Researchers
Poultry Production
Production
A producer's experience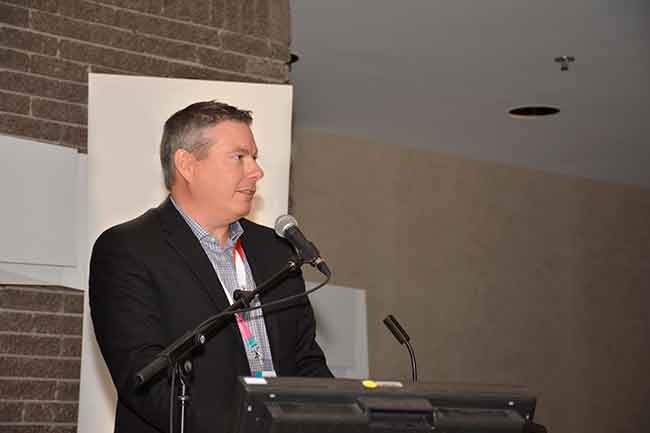 While antibiotics and anticoccidials have been very effective in managing coccidiosis and clostridium, broiler growers are now faced with learning how to maintain production efficiencies without them.
It can be done, says Jefo technical services manager Derek Detzler. He grows about 90,000 birds/cycle in "normal" two-story barns in Ontario and started raising them without antibiotics a decade ago. But when he started the path to antibiotic reduction, there was no demand for antibiotic-free chicken. So why change?
Prior to joining Jefo, Detzler was manager of research and development of Fischer Feeds, a privately owned, independent feed manufacturer near Listowel. "We started to see coccidiosis outbreaks in some of the flocks I was working with," he told growers in a well-attended seminar during the B.C. Poultry Conference in Vancouver. "The drugs we were using were losing efficacy and we expected we wouldn't get any new products."
Wanting to restore sensitivity to the anticoccidials that were being used, Detzler says in 2004 they opted to trial a coccidiosis vaccine, applied at the hatchery, for three continuous cycles, as U.S. data showed that would be enough to repopulate the barn with Eimera oocysts not resistant to the anticoccidials. The first flock, as expected, had reduced ADG and an increased FCR. The next two flocks "did OK, not spectacular, but OK," Detzler says.
Surprisingly, when an anticoccidial was used again, lack of efficacy was observed due to persistent coccidiosis breaks. They wondered why, and then realized they hadn't given the vaccine a fair chance. Mandatory clean-out of barns in Canada meant oocysts were removed from the barn, which could prove counter-productive to "seeding" the strains, and they didn't change the nutrition – feeds were formulated based on the use anticoccidials, not taking in to account a potential challenging cycling period of the vaccine.
"We were very curious to know how the vaccine worked," says Detzler. In theory, the four to six days after the vaccine is applied, the chicks should shed oocysts, pick these up again from the barn a few more times, and develop immunity to coccidiosis by days 26-30. But Detzler says they didn't know if this was happening, so they made the "big commitment" to learn how to count oocysts.
For five years, feces were collected from each barn every three days from day five onwards and oocyst counts recorded. The data was "fascinating" and after two to three years, Detzler says they had a great handle on when and how coccidiosis would cycle in the barns based on standard management SOPs.
With complete control of coccidiosis, the next step was to try and reduce the use of AGPs, with the eventual goal of eliminating them, he says. They knew clostridium didn't play a role until about day 12 (when they would start to see necrotic enteritis, or NE), so they first removed the AGP in the starter feed, and used an alternative product instead in what he calls "a strategically defined antibiotic reduction program" and achieved results that were equal to AGP use in the same period. With success in the starter, "we targeted the same strategy in the finisher/withdrawal phase and observed the same thing – no loss of performance."
The next step proved to be the toughest – removal of the AGP during the challenge time of coccidiosis cycling. They knew that the chances of NE were greater during the time of oocyst cycling, so they looked at how to optimize or limit cycling. They knew they had a low number of oocysts being shed in the barn at a time when it was critical for the bird to reingest them.
Even application of vaccine at the hatchery is key, he says. They also looked at adding moisture to the barn during brooding to help oocysts sporulate. Although they had no idea how much moisture to use, Detzler says they used existing misting systems to create a moist area. Chicks were also kept confined within brood guards to increase density while shedding. By doing this, they "saw a huge shift in oocyst cycle patterns," he says. It was concluded that proper cycling of the vaccine was
"paramount" for removing AGPs.
To address other challenges associated with coccidiosis, they looked at the feed. Protein levels were reduced, and vegetarian sources increased, as there is evidence that undigested protein and animal proteins increase the risk of NE.
They tried playing with different density levels but Detzler cautions that whatever density is used, "don't vary from it. If you do, it will affect vaccine cycling."
If birds are breaking with NE, he says, it's happening for a reason and what's key is to observe, learn and benchmark. "It's not easy to figure out, but persistence and commitment will get you through it."
Supplemental feeding in the first five days is also used to promote gut and immune health. In addition to vaccination, probiotics, organic acids and essential oils are used instead of AGPs. "As of today, the mortality in our RWA flocks closely mirror conventionally raised birds," he says.
Detzler admits the changes have added costs, noting his FCR can be four to eight points higher.
He says there is no "silver bullet, but if you're committed, benchmark, and willing to learn to adopt new management techniques, it's certainly possible."
---
Print this page