Webinar: The Importance of Ventilation for Poultry and Egg Production

By Canadian Poultry magazine
Webinar features Ross Demerly, engineering sales manager at Munters.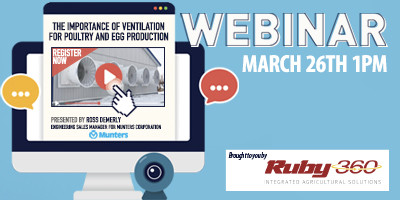 Sponsored by Munters and Ruby 360
Ventilation in a poultry house supplies fresh air that is essential to sustain life. Ventilation air removes excess heat, moisture, dust and odours from the building and, at the same time, dilutes airborne disease organisms. Properly designed winter systems also conserve energy by utilizing heat generated by the birds.
In this webinar, Ross Demerly, engineering sales manager at Munters, will cover:
The importance of proper ventilation
Pros and cons of tunnel and side wall ventilation
Importance of how fans are staged to maximize efficiency
High efficiency and why it's important for today's farms
Talk about brushless DC motor vs standard belt fan
Dealing with Canadian climate
Ross Demerly
Engineering Sales Manager at Munters
Ross has a wealth of knowledge and experience in agricultural and commercial ventilation designing systems all over the world. He is also one of the inventors of Munters Drive technology used in Munters' high efficiency fans – a direct drive, variable speed, brushless DC motor that offers up to a 40% reduction in electrical usage and is nearly maintenance free.