Who's Who 2020 – New Brunswick – Nicholas Budd
By Treena Hein
Features
Producers
Chicken producer developed an early passion for educating people about farming and supply management.
Although he's only been in the poultry sector for a few years, Nicholas Budd is passionate about helping his fellow Canadians understand food production and the related benefits that supply management provides to them and to farmers.
His broiler operation, which he runs with his wife Susan and help from their young son Zachary and daughters Annelise and Elisheva, is located on his family's farm just a few kilometers from the state of Maine.
Katahdin View Farm, an hour west of Fredericton outside of Woodstock, was started in 1994 by Nicholas' parents, Drs. Kevin and Patricia Budd, large and small animal veterinarians respectively. Kevin, in particular, had always wanted to farm, so he and Patricia bought the operation just a few years after graduating from the University of Guelph's Ontario Veterinary College.
"They started with 350 acres, six beef cows and four young children," Budd says. "That has grown to present cow-calf operation with close to 300 cow calf pairs, 1,700 acres of farm and woodland, a broiler barn, four more children and eight grandchildren and counting. We produce silage and grain for the cattle and have several full-time employees plus part-time/seasonal students." Among those employed are Budd's two younger siblings, Hannah and Matthew, who work primarily with the cattle.
Kevin and Patricia believe in the benefits of education. They encouraged Budd to attend New Brunswick Community College for the Heavy Equipment Technician program. He uses that training extensively on the farm. Indeed, continued education and research into helpful practices and technologies is a core principle for the Budds, and various family members regularly attend conferences both in North America and the U.K.
In recent years, the family has implemented sustainable practices such as rotational grazing, no-till cropping and crop diversification. In addition, they've focused on business management and farm succession planning.
Community involvement was a big part of Budd's childhood and that continues today. "Church participation, 4-H and Spring Show and Sale were regular events for me as a youngster and I now volunteer as opportunities arise," he says. "We've also hosted folk music jams here on the farm, and work with the Western Valley Equine Association and with local outfitters who take customers on the farm's woodland to hunt black bear."
The family also enjoys gardening, forestry and sportsmanship competitions, having faith in God and building their relationships with each other.
Broiler evolution
Broiler farming came about for the Budds because of Kevin's continued scanning for diversification opportunities. Upon learning of the New Entrant Chicken Farmer Program through the Chicken Farmers of New Brunswick, he encouraged Budd to apply and, sure enough, he was selected in the draw.
The first challenges were to decide on barn design and which mechanical systems to include. "We wrestled for a while with the design and technologies that would prove most efficient but also affordable," Budd recalls. "We visited farms all across Canada and in the end, decided on a one-story design. It was more expensive but we thought it would ensure a more optimal environment.
"It would provide fewer long-term complications and be safer for the kids, encouraging them to be involved. For the barn's systems, we decided on hot water heating, a Vencomatic heat exchanger and Maximus Control System with cellphone monitoring."
The barn was completed over the winter of 2016-2017 and the first flock of broiler chicks arrived in February 2017. Budd says the learning curve was steep, especially since he'd decided to try antibiotic-free production from the start.
However, with no experience in broiler farming, he decided to discontinue with that type of production, but like all other broiler farmers in Canada, uses select antibiotics in line with Chicken Farmers of Canada's (CFC) national phase-out policies and says he gets excellent results.
Then, only three flocks into production, the greatest challenge – one that was completely unimaginable – presented itself. A fire completely destroyed the barn down to the foundation slab. Budd says he remains grateful to the Chicken Farmers of New Brunswick for their help recovering from the fire and for help in general through the New Entrant Program. The rebuild was quick, lasting only the length of three flocks, with only minor improvements made to the feed line winching and fan placement in the new barn.
Marco Volpé was impressed with Budd at the time of the fire, which happened less than a year into production. "He didn't let that bring him down," says Volpé, who is senior manager at Groupe Westco, a regional poultry company where Budd purchases his chicks. "He took it as an opportunity to grow stronger."
To increase profits, last year Budd began experimenting with producing a portion of his feed. He bought wheat directly from a local farm, blended it with purchased feed and at this point, he's fed it to several flocks with good success. Late last year, the Budds took it a step further, planting winter wheat for the first time in order to add their own to purchased feed.
Of their overall approach to broiler farming, Budd says, "Susan and I strive for excellence and we're always researching. Whether its tweaking lighting or water conditioning modifications, there's so much to learn."
Advocacy
As a new entrant, Budd was invited to take part in CFC's Young Farmers Program last year. In it, he and the other members of the group (selected from across Canada) received training on the importance of sharing information about poultry farming on social media.
In addition, the group travelled to Ottawa to learn about CFC and attend Lobby Day on Parliament Hill. "It was my first time in Ottawa and it was very interesting," Budd says. "We met with politicians and explained to them what we do on our small family farms and why supply management is so important."
"It matters that such a large percentage of the population, including many politicians, has very little idea how food is produced," he observes. "We farmers need to show them day-to-day life on a farm, and that farmers are real people. We also explain how we ensure safe food is delivered to consumers."
During the past year, Budd says he's realized the importance of social media in making connections with consumers. On a similar note, the Ag Alliance of New Brunswick promotes an Open Farm Day every fall and this year due to Covid-19, the use of virtual tours is being explored instead of physical tours. The Budds hope to participate.
And, although he recognizes that COVID-19 has been difficult for everyone, Budd believes that a silver lining can be found in how understanding across Canada has increased in relation to the importance of supporting food production in one's own country.
"From practices used on the farm to all parts of the supply chain, having food produced here in Canada or even within your own province ensures that quality is maintained and production isn't disrupted by disease, natural disasters, trade issues or poor practices," he says. "Local production also keeps you and your friends and neighbours employed."
"It's good to see producers like Nicholas in the industry," says Volpé, who also serves on the board of Chicken Farmers of New Brunswick. "His leadership, attention to details and willingness to learn lets us believe that someday he would be a great director."
Says Budd, "I'm thankful that I grew up on a farm and that my parents made poultry farming possible. It's been a fun journey that's family friendly."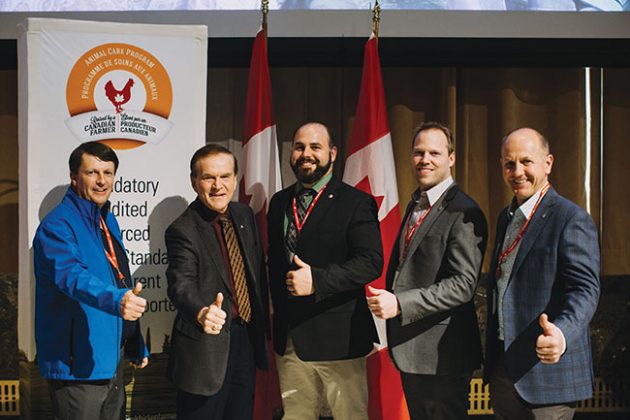 Empowering young advocates
Nicholas Budd was one of the first participants in Chicken Farmers of Canada's (CFC) Young Farmers Program, which launched last year.
A crop of up-and-coming producers were selected to learn about the inner workings of the Canadian chicken industry.
Others participants included Ontario's Jonathan Giret, Quebec's Frédéric Emery Dufresne, Alberta's Andre Poulin and Saskatchewan's Tiffany Martinka.
Last spring, they attended the Canadian Young Farmer's Forum in Toronto. This conference brought together young farmers from coast to coast for a weekend to learn about the different commodities in Canadian agriculture, learn about various ways to finance their farms, future planning and make connections with fellow young farmers.
Then in early May, the group came to Ottawa for three days to attend various workshops and events, including CFC's Lobby Day.
The Young Farmers participated in an intensive orientation seminar that gave them an in-depth look at what CFC does on a day-to-day basis, how the board of directors functions and the various projects CFC staff has been working on.
The group also partook in social media training from MediaStyle, where they learned how to tell their story and share it with the world.
In addition to this training, they participated in meetings during Lobby Day, connecting with Members of Parliament and Senators to discuss the important issues surrounding the chicken sector.
They were also invited to lunch with Alberta MP Earl Dreeshen at the Parliamentary Dining Room.
During this lunch, the young farmers learned about life as a Member of Parliament and the work all parties are doing to support the agriculture sector.
Their time in Ottawa concluded with a behind-the-scenes tour of Parliament Hill, followed by the CFC's Parliamentary Reception.
The young farmers then travelled to Saskatoon in July to attend CFC's annual summer meeting.
The board continues to engage with the young farmers to ensure they have the tools to succeed.
These budding leaders are paving the way in Canadian agriculture through innovation, animal and plant science and entrepreneurship.
---
Print this page