Canadian Poultry's inaugural Top 4 Under 40 honourees chosen
By Canadian Poultry magazine
News
Producers
Program launched to recognize young poultry farming leaders.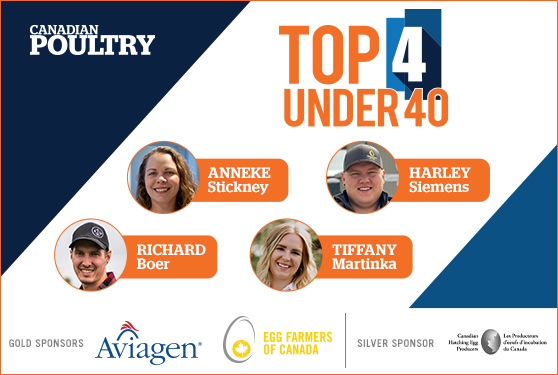 In March 2021, Canadian Poultry launched our inaugural 4 Under 40 program, an initiative designed to recognize young poultry farming leaders. We were truly blown away by the incredible submissions we received.
Please join us along with our sponsors in congratulating the following four producers selected as part of this year's program:
Richard Boer, Brightside Poultry, Chilliwack, B.C.;
Tiffany Martinka, Martinka Chicks, St. Benedict, Sask.;
Harley Siemens, Siemens Farms, Rosenort, Man.; and
Anneke Stickney, Stickney Poultry Farm, Elora, Ont.
For more on each of our honourees, click here. And watch out for a new podcast series launching mid-July featuring interviews with this year's winners.
We sincerely appreciate everyone's help in making the program's inaugural year such a success!
---
Print this page