DECADES
By Canadian Poultry
Features
100th anniversary
Key Developments
Business/Policy
Canada
Poultry Production
Production
A look back through the last 100 years of Canadian Poultry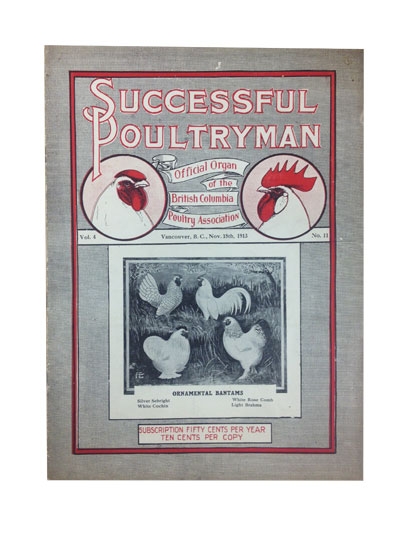 1913-1925
Trends
The B.C government raised alarm over the large volume of unmarked foreign eggs entering and disrupting the market in April 1915, so calls were made for immediate and mandatory Country of Origin Labelling.
Outdoor lamp brooding had had its day and indoor room brooding was the way of the future in March 1918.
The key to success in the egg business in 1918 was that good hens will yield a lot of eggs and a positive financial return while poor hens will cost more to feed than they will return in eggs.
In June 1919, getting rid of "surplus" males was advised for farmers who wanted a healthier, more productive flock. "If our readers have not already eaten or sold their suplus male breeders they should do so at once; the hens will lay as well, if not better, without a male bothering them."
Poultry in the 1920 United States was one of the country's biggest industries, but few people have much invested in it and even fewer focused solely on poultry, according to Geo Rommel, chief of the animal husbandry division of the U.S. Bureau of Animal Industry.
To get the best breeding results, farmers were told, to know the
background of each individual in the mating." This would guarantee the pedigree.
"Poultry molted well will breed well, lay well and look well and pay well" – Canadian Poultry World, August 1921.
In 1921, the greatest concern was the importation of eggs from Washington State that were sold below the cost of production. Despite this, B.C. egg producers were investing in "splendid new buildings of the best known type."
Highly productive laying hens were elusive, according to a January 1924 editorial. Fewer than one per cent of hens produced 300 or more eggs in
a year.
Imports of rail car loads of surplus U.S. eggs in December 1923 caused B.C. egg prices to fall from 55 cents to 42 cents a dozen in a matter of days.
Federal Record of Performance standards for Canadian poultry were becoming tighter and tighter in late 1924. Designed to maintain the standards of breed integrity and high productivity, ROP (Record of Performance) standards were advancing the quality of Canadian poultry on both fronts.
A three-year study of confinement versus range for laying hens ended in March 1925 and found that range birds produced more eggs and consumed less feed per egg produced. It also found that "chickens bred from hens confined lacked vitality, perhaps the biggest factor in egg production."
Better birds, better prices and egg grading
When 1925 came to an end, egg producers were enjoying the best of times, according to Prof. E.A. Lloyd. Egg prices were up, farms were profitable and the birds had been mightily improved, breaking laying records year after year.
But he cautioned that the newfound prosperity might not last. U.S. eggs were re-entering the Canadian market, undercutting prices in Eastern and Central Canada. Canadian production was rebounding, adding pressure.
He also advised producers to remember that the current prosperity was built on boneyards of broken dreams. "Our comparatively high prosperity this year is due, however, to the losses and retirement of many poultrymen of previous years."
He also reminded egg farmers that at least some of their prosperity was built on a solid foundation of consumer confidence that came from nationwide egg grading. "Canada's egg grading laws are the envy of the U.S. and of practically every other country in the world."
In addition, he warned against allowing the "propaganda" peddled by merchants and some politicians to abolish "these modern, advanced and helpful regulations."
Firsts
Regulations respecting the grading and marketing of egg were established in 1918 under the Livestock and Livestock Products Act. These applied to eggs that were exported or moved interprovincially, and they were the first set of national regulations established in any country in the world.
Also in 1918, the ROP programs were introduced, which gave rise to today's quality breeding stock. Canada was the first country in the world to establish a government-supervised poultry improvement plan.
The publication of the first edition of Moose Jaw-based "The Western Hen" was welcomed by W. Miller Higgs, editor of Poultry Pigeons & Petstock Journal in March 1918.
With the strain the First World War was putting on food supplies in 1918, urban dwellers were urged to keep small flocks of chickens in their backyards.
W. Miller Higgs, editor of Poultry Pigeons & Petstock Journal announced he was headed to the front lines in the First World War "to do his bit" in July 1918. The production of the journal was left in the hands of his wife.
Starting with the November 1918 edition, Thos. Edwards, W.H. Willins and H.D. Reid acquired ownership of Poultry Pigeons & Petstock Journal from Mrs. Miller Higgs, who had been managing the magazine while her husband was serving with the Canadian army in Europe.
After lengthy consideration in July 1921, the editor and ownership decided to change the name of the journal from Poultry Pigeons & Petstock Journal to Canadian Poultry World – a "far more appropriate name."
Mrs. Wilmer Steele of Oceanview, Del., is considered the pioneer of the commercial broiler industry. In 1923, she raised a flock of 500 chicks intended to be sold for meat. Her little business was so profitable that, by 1926, Mrs. Steele was able to build a broiler house with a capacity of 10,000 birds.
A co-op aimed at collecting B.C. eggs and wholesaling them collapsed and Chas. Golding wrote that he believed he knew why. The price of eggs in Vancouver was determined by the Seattle price for surplus eggs. He wrote in August 1924 that "we have absolutely no protection in our own markets for outside powerful competition."
---
1926-1935
Trends
In 1926, there were significant drops in egg prices: Canadian duty was three cents per dozen, compared to a duty of eight cents for eggs entering from the United States.
Egg production in 1927 increased by over 100 million dozen, or 70 per cent, since 1920 due to increasing technology, husbandry and larger flock sizes.
Raising turkeys gained in popularity in the late 1920s.
In April 1931, the poultry population in Canada increased by one million between 1929 and 1930 due to the improvement in egg production, marketing and grading.
The use of wax in the poultry industry for help in plucking the bird was attracting attention, so the process was profiled in September 1935.
The Calm Before the Storm
In the late 1920s, there was a lot of focus on the perils of declining egg prices and the dominant presence of U.S. eggs in Canadian markets, known as "egg dumping." An editorial from 1926 said that American eggs receive a duty of three cents per dozen, but local eggs sent to the U.S. are burdened with an eight cent tariff. While plenty of options were discussed throughout the following years, the issue was never completely resolved. In 1929, the B.C. Egg Pool and Poultry Association was formed to monitor, candle and distribute co-operatively up to 1,000 cases of eggs per day, valued at $9,000. In June of that year, 76 carloads (or 1,031,737 dozen eggs) were sold in 36 days.
Chick sexing was also a hotly discussed topic in 1934, with numerous articles explaining the process involved, and its potential use and value within the industry, which all culminated in a series of articles written by Rolfe M. Forsyth. The articles, which ran in July, August, September and October 1934, discussed every avenue of the process, including a step-by-step description of the process and the pros and cons associated with it.
This decade was also a time of change for Canadian Poultry World (renamed Canada Poultryman in 1928), with not only a title change but also many layout and design alterations along the way. The most significant occurred in May 1930 with the sponsorship of the International Egg Laying Contest by Canada Poultryman and the disasters that followed and resulted in the demolishment of Western Trade Publishing Co. Ltd., the company that owned and published the magazine.
In total, the design of the magazine changed four times, while ownership of Canada Poultryman shifted twice: from Pacific Coast Motorist Ltd. in May 1930 to Farm Papers Limited in
February 1935.
Technologies
The April 1933 issue featured a Fire Torch from North Coast Welding Co. Ltd. to disinfect and sanitize your barn is a "positive way to destroy disease germs."
Chick sexing using the Japanese method was first described in September 1933.
B.C. Electric Railway Company released a forced air draft electric brooder in early 1934.
In mid-1934, a connection was found between the number of eggs a hen produces and the amount of oyster shell (a popular source of lime) the bird consumes because of calcium requirements.
Chick sexing was
demonstrated in a series of articles: July, August, September and October 1934.
Ventilation strategies for your barn, from R.V. Wilcox, B.S.A., described in September 1934, included using hinged windows as well as air intake and outlet shafts to take advantage of natural air movements.
Firsts
Egg grading helped to increase both production and consumption of Canadian eggs (from 142 million dozen to 249 million and 16.8 dozen per capita to 26.8).
The Poultry Producers' Association of British Columbia was formed in March 1926.
R.H. Storer and W.B.M. Miller purchased The Canadian Poultry World in December 1926.
Adding oyster shell to feeds became mainstream in mid-1927.
1,080,000 eggs were shipped to Great Britain from the Pacific Coast for the first time in 1927.
The magazine was renamed Canada Poultryman in 1928.
National Poultry Council was formed in January 1929.
In February 1929, the B.C. Egg Pool (the first step in co-operative marketing) was introduced.
Canada Poultryman opened office in Saskatchewan in 1930.
The magazine was taken over by Canada Poultryman Publishing Co. Ltd. from Western Trade Publishing Co. Ltd. due to losses sustained conducting the International Egg Laying Contest in April 1930.
Pacific Coast Motorist Ltd. purchased the magazine in May 1930.
In December 1930, magazine released the first Annual and Breeders Directory.
In 1933, tried and true "Canada Poultryman Feeds" within the magazine were published to help farmers.
Chick sexing was discussed in the September 1933 issue for the first time.
Farm Papers Limited purchased Canada Poultryman in February 1935.
Douglas Thornhill, a well-known Alberta poultry farmer, began writing his article "Practical Paragraphs by a Prairie Poultryman."
The "Albertan" poultry breed was officially recognized as a new Standard variety in 1935.
Issues
The controversy of importing chicks from the United States continued in 1926.
Bacillary white diarrhea was the most discussed problem affecting B.C. poultrymen in 1928.
Price disagreements within the B.C. Egg Pool plagued the organization after its founding in early 1929.
In early 1930, the use of artificial heat in poultry houses was gaining steam, but was not recommended by a committee of B.C. poultry officials.
Egg prices reached below 35 cents per dozen in B.C. in the first half of 1931, and dipped even lower in the Prairies (21 cents), the lowest in 20 years.
In 1933, it was decided that Grade A1 eggs are to be candled, graded and packed by the producer (a grade available only to the producer) by the Live Stock Branch of the Dominion Department of Agriculture.
With chick sexing becoming more common in the early 1930s, farmers were interested in acquiring the skills, but lacked the confidence to master the procedure.
The Poultry Marketing Scheme for British Columbia (part of the Natural Products Marketing Act) was outlined in detail in April 1935, with its problems discussed in the May 1935 issue.
The Beginner's A.B.C.January 1929
Always interest yourself in your stock.
Breed always from the best of stock.
Careful attention commands success.
Dirt is the most virulent conveyance of disease.
Eggs should be removed from the nest as often as convenient.
Fresh water is compulsory.
Good frit, flint and oyster shells should never be absent.
Hatch no more than your ground will carry – save chance of loss.
Insides of houses, etc., must be kept spotless.
Join and support the associations that are working for the betterment of the industry.
Keep well up in poultry matters – read the Canada Poultryman.
Look out for the first signs of disease – a stitch in time saves ninety-nine.
Make a spare pen; it's bound to come in handy for hospital, new purchases or training.
Nests must be roomy, comfortable and clean.
Overfeeding is the cause of many disappointments, such as scarcity of eggs, etc.
Perches should be movable so that they may be often and easily cleaned.
Query columns of Canada Poultryman are a mine of information.
Raise chickens only from the best stock.
Successful poultry-keeping is the result of careful study.
Turn every useless fowl into cash, or it will quickly eat your profit.
Utility points must be maintained by pedigree record-nest strains.
Vegetables and green stuff are a necessity.
Water and waterpots must be fresh.
X's should be cut down as much as possible.
Years and seasons are not all alike – do not expect the same success every time.
Zeal – and plenty of it.
---
1936-1945
Trends
Debate continues throughout the decade, especially in Western provinces, regarding the import of U.S. eggs into an already satiated Canadian market.
In May 1936, the Dominion Budget imposed a duty of 10 cents per dozen on eggs and four cents on baby chicks coming from the United States.
Per-capita egg consumption had decreased from 356 eggs in 1926 to 260 eggs in 1936.
In October 1940, 20,000 cases of eggs were shipped from British Columbia to Great Britain to help the British during thewar effort.
From Oct. 1 to Nov. 30, 1940, the editors of Canada Poultryman donated every cent from subscribers to the Canadian government to assist in thewar effort.
War Impacts the Industry
During the last half of the 1930s, genetics took the forefront, with a major discussion in 1936 focusing on the differences between breeds. Producers were concerned about the emergence of the New Hampshire breed (similar to the Rhode Island Red) and its effect on the industry. Additional breeds were thoroughly discussed throughout the year as well, including the Buff Minorcas, Light Sussex, Barnevelders, Welsummers and more.
Different methods of production were also discussed, namely the dramatic rise of the laying battery system. So much so that many articles and editorials were devoted to the explanation of how the new cages allow greater sanitation, bird control, cleaner eggs and ease in bird management.
The issue of U.S. imports continued to worry producers with a tariff imposed on eggs and baby chicks (10 and four cents, respectively), so the domestic and home markets were protected. Despite that, prices were still so low that in the April 1937 editorial, editor Fred W. Beeson advised producers to "set aside one case of eggs that would ordinarily go to market" and store it yourself to decrease the market saturation and drive up prices. There was no indication his idea worked, but in December 1937 and January 1938, both editorials highlighted the need for a different method to increase both prices and demand – advertising.
This led to the development of a petition to the minster of agriculture, conducted through Canada Poultryman, for the creation and funding of a national advertising campaign for the purpose of raising egg consumption in Canada. In June 1938, in which the minister promised to take some sort of action. Instead, a "Buy by Grade" campaign was delivered in the fall, which showed little improvement to the industry. Industry prospects improved the following year in mid-November 1939 with a campaign to foster the increased consumption of poultry and turkey meat on the domestic level through "magazine and newspaper ads, radio talks and moving pictures."
All other debates and developments, however, got placed to the side briefly when the Second World War broke out in 1939. Countless articles were written on Canada's involvement, specifically with regards to its commitment to provide Britain with eggs and how the war would impact the poultry industry as individuals left Canadian shores to fight. While other issues popped up, such as the drive towards battery cages and the advantages of blood testing for Pullorum, until its end the war continued to draw headlines regarding its impact on the industry.
Technologies
In June 1936, the Slatted Floor House from England is introduced to rear pullets and make sure that every bird has fresh air within the house.
FIRPLY, an "ideal lining for brooder houses, laying pens" that is made from four-foot by eight-foot sheets of Douglas Fir plywood, is shown in the July 1936 issue.
The B.C. Electric Company's new system of circulating preheated air under barn floors to eliminate condensation during the winter was featured in late 1936.
Two articles, in September and October 1938, described ways to take advantage of the loans available through the Home Improvement Plan (H.I.P) to improve various aspects of a farm.
In April 1939, the electric brooder was profiled because it began to gain usage across Canada.
Due to war restrictions, producers were encouraged by the magazine in March 1943 to build their own breeders.
In May 1943, the egg-drying process for shipment overseas was explained in detail, so producers could fully understand what was happening to their product
Firsts
Breeders and hatcherymen organize in Alberta and British Columbia to create Western Canada Baby Chick Association in 1936.
In March 1937, electrocution (or electric stunning) is thought to take the place of other killing methods, based on studies by the National Research Council.
In January 1938, Canada Poultryman began a multi-month petition to the Hon. James G. Gardiner (Minister of Agriculture) to create and fund a $100,000 national advertising campaign
for eggs.
In July 1938, a delegation met with the minister of agriculture on June 16 and received active support and a promise of action.
October 1939: With the Second World War in full swing, Canada helped to feed Great Britain and her allies with eggs and other poultry goods.
July/August 1943: Rail grading of poultry was introduced in Canada.
The R.O.P breeding policy was redone with regards to pullet pedigrees and egg grading in January 1944.
The R.O.P Breeders of British Columbia formed a new association – the R.O.P Poultry Association of B.C. in November 1944.
Issues
With a shortage of chick sexers in Canada in early 1936, workers from Japan came over to do the job, but numbers still fell short.
B.C. poultrymen protested Dominion government regulations requiring compulsory blood testing for pullets not intended for breeding in mid-1936.
The debate between laying or battery cages for layers still raged in December 1936.
October 1939: An article on how the war will affect the Canadian poultry industry from Canadian poultry marketing authorities (John I. Brown, W.A. Landreth and W.A. Brown) was published.
Wartime Prices and Trade Board announced that wholesale prices will be fixed beginning on Feb. 12, 1941, for fish meal and animal products to be used in feed.
A National Poultry Conference was held in January 1944 to discuss conduct during and after the war for
the entire industry.
At the National Poultry Conference, cross-bred chicks were looked upon with disfavour, and it was recommended that shipments be prohibited, at each province's discretion.
---
1946-1955
Trends
Canadian chick production in 1945 was 43.4 million, down seven million from 1944.
Following the Second World War, competition for egg and poultry markets increased in late 1945 and Canadian producers were told to focus on efficiency.
The campaign to sell victory bonds didn't let up with the end of the war. In the October 1945 edition of Canada Poultryman, it shifted to a call for farmers to buy bonds to ensure "a victorious peace."
During the Second World War, Britian became a dominant market for Canadian eggs, taking up to half of surging production, but by January 1949, it had changed. Canada Poultryman wrote, "we shall do well to look after our domestic market which is, and always has been our most profitable outlet for eggs and poultry."
Total confinement rearing of turkeys gained popularity on the Prairies in early 1949. However, "where good, clean range land is available and where the danger of predators is not too great, it is felt that the range rearing system has many advantages and should be followed wherever practicable" – R.M. Blakely, Dominion Experimental Station, Swift Current, Sask.
Modernization Takes Root
There is no doubt the average poultry farm is far too small. Attempting to make a living comparable from those in other industries or occupations with a thousand layers just can't be done anymore. For one thing. the possible profit per bird is not likely to increase as the years go by, and for another, the complexities of modern living bear little relationship to a couple of decades ago.
That is another way of saying that our living today is far more expensive because of our greater "quantities of essentials than ever it has been in the past. Those who in past years made a living from 160 acres of land did so on mighty few dollars a week, but they made a living or figured they did. No one farming today has any desire to go back to the hardships endured by earlier settlers, and so, if we are to expect an income that will cover present day living costs, we have to raise our sights.
Therein comes the rub. The cost of constructing the necessary buildings for additional stock is so steep as to make one hesitate at the attempt. It is safe to say, though, that those who are able to do this will reap a worthwhile harvest because their number will be comparatively few for a long time to come.
With labour saving equipment, a man today is said to be able to look after several thousand layers with less work than his father encountered with a few hundred. From now on, the watchword is going to be economical production and that means maintaining the greatest number of productive birds with the least labour."
Canada Poultryman, November, 1948 – Written by Fred Beeson
Technologies
Beginning in late 1966, the use of artificial lighting was found to be beneficial to egg production. "In turkey production I see a change coming. In fact, the most spectacular development that is likely to take place in the next few years in the poultry industry of Canada will be the commercialization of turkey poults," wrote W.J. Rae, professor of Poultry Husbandry, University of Saskatchewan, in November 1946.
"One of the newest and most advanced pieces of equipment is the moving feed carrier which is now in operation in some plants and which may be regulated to operate with absolute regularity as the operator may desire."
– Canada Poultryman September 1949.
Firsts
The war in the Netherlands officially ended when German General Johannes Blaskowitz surrended to Canadian General Charles Foulkes on May 5, 1945, at Wageningen.
The war in Europe ended with Germany's unconditional surrender on May 8, 1945.
The Empire of Japan surrendered on Aug. 15, 1945, ending the war in Asia.
The Vancouver Island Poultry Co-operative Association was formed in 1945 to operate a killing, chilling and egg-grading station and to supply wholesale and consumer markets.
In 1946, Ontario passed the Farm Products Marketing Act, which, with numerous amendments, remains in effect today.
Vitamin B12 was identified in 1948, the last traditional vitamin. Shortly thereafter, it was found that animals such as poultry require the vitamin.
In January 1948, Newcastle Disease was first identified in Canada. By late 1948, six cases had been identified, including one in Saskatchewan, three in Ontario, one in Quebec and one in Nova Scotia.
The Australian Egg Board was established in January 1948 to buy and sell eggs and egg products intended for export.
In the March 1948, a new machine – The Automatic Egg Washer – was introduced, which washed eggs in a "sanitary manner" with water hot enough to kill common bacteria, and was gentle enough not to damage the eggs.
The B.C. Poultry Producers' Association applied to the minister of agriculture in February 1948 for the establishment of a poultry marketing scheme.
In 1950, W. Murray Clark of Caledonia, Ontario, established a business to sell production equipment to local poultry and egg farmers.
---
1956-1965
Trends
In February 1960, the Canadian egg industry became free of support prices (for the first time since 1941).
Debeaking of poultry was claimed to be the best way to prevent cannibalism in 1960 by Herb Gasperdone of the B.C. Department of Agriculture.
New Canadians' preference of ducks and geese to regular poultry allowed the waterfowl market to expand in the early 1960s.
The Fraser Valley, in mid-1962, had more layers in cages than conventional floor-type houses, turning egg production into a more factory-style operation.
A new disease known as transmissible enteritis appeared in turkey poults in Alberta in late 1963.
A.D. Davey of the Poultry Division of CDA said in December 1963 that consumption of poultry products could rise by 190 per cent for meat and 85 per cent for eggs by 1980.
Vital Growth
From the December 1961 Fred Beeson editorial regarding an address by W.A. Landreth at the 1961 Poultry Conference:
"Now, to return to Mr. Landreth's ideas. He suggests that each province form an Egg Producers Council, a Broiler Growers Council, a Turkey Producers Council. Taking eggs first, he suggests this Council should, in conjunction with the "Trade", establish the prices of eggs for the coming week. The spread in price for grading and cartoning eggs should have added to it one half cent per dozen which would finance the council.
Through its provincial board of directors, working closely with the egg wholesalers, be they co-ops or privately owned, Mr. Landreth stresses that stability can result from studying trends and putting in voluntary production controls. He suggests similar procedures for broilers and turkeys.
His views are interesting, particularly since the B.C. Broiler Growers Association has gone on record as favoring Production Control by a Compulsory Quota. They made an attempt at a voluntary cut-back, failed, and then decided that the only way to achieve a quota system was to come in under the Natural Products Marketing Act. Even with this Act they cannot control how many broilers a man grows but they think, and hope, that they can enforce their powers under the Act to regulate how many broilers from any one grower can be processed.
The achievement of their goal may be attainable. It may not. Time alone will tell … We have given this matter a great deal of thought. We do not think Mr. Landreth's ideas are likely to be taken up by the industry in each province, on an entirely voluntary basis. We further are of the opinion that the Natural Products Marketing Act, so sweeping in its powers, is not the vehicle the industry needs. We agree with Mr. Landreth that the Councils should be voluntary, but we'd like to see national legislation put into effect that a producer group, representing say, 75 per cent of the product within its boundaries, could establish, under Law, Production Quotas, to be set in consultation with the first receivers – the egg wholesalers and grading stations, the poultry meat processors, the feed manufacturers and the hatcheries. Each of these parts of the industry are vital to the continuing welfare of the industry."
Issues
The U.S. banned diethylstilbestrol for the caponizing of poultry in the early 1960s.
Fraser Valley, B.C., in 1960 began talks to utilize the Compulsory Egg Marketing Board, which would allow producers to set prices
Early in 1961, a referendum took place to bring in compulsory marketing in the Fraser Valley, but it was defeated by a vote of nearly three to one.
The former president and general manager of Canadian Poultry Sales Ltd. proposed in 1962 that each province form an Egg Producers Council, a Broiler Growers Council and a Turkey Producers Council, and establish quotas.
Fred Beeson's August 1962 editorial discussed the danger the poultry industry is facing by losing the small and independent producer and being controlled by a few very large firms or corporations. He also introduced the idea of using "sales quotas."
The London Poultry Show building, the Western Fair Manufacturers Building, burned down on June 20, 1963 (the final day of the sixth annual Poultry Conference and Exhibition).
Firsts
In early 1960, a University of California vet scientist found a new virus that affects the respiratory system of chickens and may be related to Newcastle disease.
At the 1960 Poultry Conference in London, Ont., re-formation of the Canadian Poultry Council was suggested to help promote Canadian poultry products, but no action was taken.
Five hundred egg producers were in favour of forming the B.C. Egg Producers' Association at a meeting in Abbotsford, B.C., during the mid-1960s to help voice the views of the producers, and help them solve price and surplus problems.
However, the motion for a marketing board from the B.C. Egg Producers' Association was defeated at a subsequent meeting.
Technologies
The Insect-O-Cutor, a bug zapper, became available in Canada in 1962 and could be used to control flies and other flying insects in barns.
By feeding layers increased corn, alfalfa meal and cereal-grass, it was shown in late 1962 that eggs were produced with a much darker yolk, but with no difference in flavour.
Dr. Salsbury's Laboratories marketed a vaccine sprayer in the early 1960s that could vaccinate 5,000 chickens or turkeys in 12 minutes
Researchers at J. Bibby and Sons of London, U.K., developed a new feed during the 1960s known as "Peckets," designed to keep laying birds from becoming bored and from developing vices.
A new technique for measuring the success of fumigation and sanitary measures was outlined in the October 1963 issue – examining fluff (or downy) shed from newly hatched birds
for microbes before and after the measures were implemented.
In the mid-1960s, lagoon disposal systems for poultry manure were gaining popularity across the Western and Prairie provinces.
In late summer 1962, a mild vaccine tocontrol Avian Encephalomyelitis (Epidemic Tremors) became available in British Columbia and Ontario.
---
1966-1975
Trends
Dr. R.V. Hemsley of K-Vet Laboratories, Hespeler, Ont., in the January 1968 issue of Canada Poultryman stresses that the keys to disease prevention are often good management; a good, well-ventilated, well-maintained barn; and clean equipment.
In a series of articles in 1968, Ross Milne of the farm sales department of Ontario Hydro emphasized the need for proper poultry barn planning, as well as lighting, ventilation and wiring.
Concern was growing over the increases of disease and mortality in broiler breeders in early 1969, as the new superfast growing strains of broilers were more susceptible to disease.
To meet the needs of modern turkey production, breeding companies adopted strain cross programs and breed tomes for a variety of traits to increase potential profitability in mid-1969.
To preserve egg quality, the Canadian Department of Agriculture reported in March 1970 that proper cooling is essential.
The ads in Canada Poultryman from 1965 to 1975 tell a unique story of an industry on the move with new technologies being unveiled all the time.
The Rough Ride to Supply Management
From the mid-1960s to the mid-1970s, Canada's poultry industries lurched from crisis to profitability and back to crisis. This culminated in the so-called chicken-and-egg war with provinces dumping surplus production into other provinces and dealing with the commercial, regulatory and legislative reactions and fallout.
Throughout this period, producers and provincial governments sought answers and stability by forming provincial marketing boards. Often they worked to stabilize production and prices, but just as often they buckled under the pressure of dumped products from other provinces, and in later years, the United States.
It was a stressful, high-pressure time. Sometimes the pressure came from within the industry applied by producers and processors wedded to free enterprise and sometimes it came from consumer groups and commercial interests, which benefited from bouts of chronically low prices and chaotic markets.
This didn't end with the formation of CEMA (Canadian Egg Marketing Agency) in 1972. The agency struggled. Its member provincial marketing boards agreed with the necessity of a co-ordinated national program, but disagreed mightily on such details as provincial shares of national production, quotas, traditional markets and even how to measure production.
Then in 1974 and 1975, an even larger threat appeared in the form of eggs coming in from the U.S. The imported eggs combined with the failure to control surplus production within Canada resulted in near panic. Agriculture Minister Eugene Whelan, long a strong supporter of marketing boards, stepped in with an ultimatum and a solution.
The ultimatum was to tell CEMA and the provincial boards that they first had to devise strict, enforceable rules to control overproduction and once that was done the federal government would deal with the U.S. imports.
"CEMA is not the success that producers want it to be. Nor is it the success I want it to be. …The final verdict will come in the next few months. If the provincial boards live up to their agreements, our chief egg marketing problems will end. If they don't, the next press conference I call on CEMA will be the last."
The squabbling and squawking came to a quick end and the federal government imposed import quotas in mid-1975. However, Canada's import quotas were challenged by the U.S. under the General Agreement on Tariffs and Trade (now the WTO). The U.S. challenge was dismissed when the international panel ruled that Canada's quotas were in compliance with international trade law.
Firsts
In April 1967, most employees of farms, ranches, nurseries and greenhouses became eligible for unemployment insurance.
In early 1967, William (Bill) Stewart officially opened Shaver Poultry's new hatchery in Galt, Ont.
The Saskatchewan Turkey Marketing Board was approved by the provincial government and set to begin operations Aug. 1, 1967.
In early 1967, Ontario broiler producers voted 92 per cent in favour of giving their board the responsibility of setting live prices and of setting terms and conditions of sale. However, Bruce MacNamara, former chair of the broiler board, cautioned that some form of national marketing control was still necessary.
In 1968, for an unprecedented third consecutive time, the Shaver Starcross 288 walked off with the USDA-ARS two-year sample test with the highest net income.
The Canadian Department of Agriculture received a major international award for development of a process for a new form of frozen eggs in early 1970. Using liquid nitrogen, egg mélange is frozen into droplets that can be packaged in varying sizes. Previously, frozen eggs came only in 40-pound lots and smaller portions were unavailable.
On Apr. 18, 1975, the Farm Products Marketing Amendment Act was signed into law. It gave the Ontario Egg Producers' Marketing Board, for the first time, authority to establish regulations to carry out effective production control utilizing quotas and providing for the inspection of premises (without a warrant) when it is believed the regulations are not being followed.
On Sept. 5, 1975, the Ontario Ministry of Agriculture and Food poultry research centre at Arkell, outside of Guelph, officially opened, consisting of six buildings designed to meet the research demands of the entire industry. The centre is operated by the University of Guelph under the Department of Animal and Poultry Science.
Technologies
In a series of articles in 1968, Ross Milne of the farm sales department of Ontario Hydro emphasized the need for proper poultry barn planning, as well as lighting, ventilation and wiring.
A vaccine against Marek's disease was introduced in 1970 and the scientist credited with its development is Dr. Ben Roy Burmester. Before that, Marek's disease caused substantial loss in poultry industries estimated at up to $20 million in increased mortality in Canada. Approval to release the vaccine for sale in Canada was given Nov. 11, 1970.
In 1975, the University of Saskatchewan received a $2.2-million grant from the Devonian Foundation for a new laboratory to study infectious diseases of food-producing animals.
The new laboratory will be operated by VIDO (the Veterinary Infectious Diseases Organization) and will develop new vaccines aimed at combating a wide range of animal diseases.
---
1976-1985
Trends
Nov. 15, 1976: CEMA dropped egg prices by two cents per dozen for A Large in response to a reduction in costs established by the production pricing formula.
Agriculture Canada revised regulations in late 1976 to allow Canadian plants to sell egg products to the U.S. or do custom processing.
In January 1977, CEMA launched a second national advertising campaign to increase egg consumption: it marked the creation and first-time usage of the "Get Cracking" and "Faites vos oeufs" slogans.
The use of broiler cages, instead of housing on the floor, began to take off in late 1977 with the ACA Co-op acquiring a Lohmann Broilermatic in Berwick, N.S., the first commercial installation in North America.
At a meeting at the end of January 1979, CEMA increased egg quotas by three per cent due to increasing demand.
With the election of Joe Clark's Progressive Conservative government in 1979, the minister of agriculture, Eugene Whelan, was replaced by John Wise.
Due to a shortage of large eggs in Ontario in late 1979, the Ontario Egg Board increased demand for medium eggs and increased the price spread between medium and large eggs to 10 cents.
The Honeymoon Period
In the mid-1970s, supply management was already in full swing and enjoying a fairly productive time. However, without a national agency to control production of broilers, the product was susceptible to market pressures and imports from the U.S. That said, not everyone was happy with supply management, as evidenced by some speakers of the 1978 National Poultry Seminar exclaiming that they want a return to the "good old days." The debate continued throughout the decade, with no sign of slowing down.
Additionally, in February 1976, the Consumers' Association of Canada told the Canadian Broiler Council (CBC) that the egg industry was overcharging consumers a million dollars a week (or 15 cents per dozen). Industry leaders and professionals were quick to state that the claim was untrue and unsupported. However, the damage was done and resulted in many individuals and professionals questioning the methods used. Add that to CEMA's difficulties in managing the market supply and adjusting the prices of eggs based on a formula from outside consultants, and it is no surprise that many articles were written throughout the decade on how exactly egg pricing is determined and possible alternatives. However, when the minister of agriculture threatened to disband CEMA, the agency improved its standing and producer co-operation.
In response to criticism, the National Farm Products Marketing Council conducted hearings into the egg industry (requested by the Consumers' Association of Canada). The full hearings were published and summarized in the November 1978 issue of Canada Poultryman,and will be featured on our 100th website.
In May 1977, Bill C-42 was introduced and criticisms of it from farmers arose almost immediately with the proposed creation of a Competition Policy Advocate. This position would be able to challenge the rulings of national marketing boards and take them to court if it was believed not enough market competition was present. However, a few months later in August, the Ontario Federation of Agriculture said in a statement that marketing boards should be exempt from Bill C-42. In the end, the bill did not pass through Second Reading of the legislature and disappeared from discussion.
There were also numerous reports on the effects of eggs on cholesterol; with articles and news briefs written to the effect that egg yolks run the gamut from having a significant effect, to a minimal, to none at all. The U.S. Senate Select Committee on Nutrition and Human Needs in January 1978 stated that people should drastically decrease cholesterol consumption, especially in regards to eggs. In response, CEMA planned (in the fall 1978) an extensive public advertising and promotion campaign to raise awareness of the health issue.
After the 1979 election of Joe Clark's Progressive Conservative government, John Wise replaced Eugene Whelan as minister of agriculture. Editor Fred Beeson wrote a farewell editorial for Mr. Whelan in July 1979; however, the change did not last long – as the re-election of the Trudeau Liberal government led to Whelan's reinstatement until 1984.
A great change in Canada Poultryman occurred in July 1980, as Beeson retired as editor, a position he had held since the
mid-1930s.
Firsts
The Hon. William G. Newman was appointed minster of agriculture for Ontario in January 1976.
The Poultry Industry Council of Canada formed in mid-1976.
In November 1976, British United Turkeys of England and Hybrid Turkeys Limited of Canada announced an agreement giving Hybrid exclusive rights to breed and market the B.U.T. 6 Large White turkey in North America, Central America and South America.
CEMA was awarded the I.E.C. Annual Marketing Award for egg promotion in June 1978.
The Canadian Chicken Marketing Agency commenced operations on Feb. 5, 1979.
Canfarm moved ownership from Agriculture Canada to its new company, Canfarm Co-operative Services, on March 30, 1979.
The B.C. interior's first processing plant, Colonial Farms Ltd., opened in Armstrong, B.C., in mid-1979.
Poultry weights changed to metric from the more customary imperial units (foot, yard, pound, etc…) on Jan. 1, 1980.
Fred W. Beeson retired as editor of Canada Poultryman in July 1980.
Issues
In 1976, imports of broilers from the U.S. were on the rise because there was no national agency to control production and utilize supply management of broilers.
Consumption of eggs in Canada was declining in the late 1970s.
In April 1976, the Consumers' Association of Canada said that in February the egg industry had overcharged consumers a million dollars a week (or 15 cents per dozen).
In late 1976, the Canadian Egg Marketing Agency (CEMA), which is in charge of operating the supply-management program, refused to import and subsidize any more eggs.
Also in 1976, the Canadian Egg Producers Council signed new agreement with CEMA to be its public relations and political arm while remaining a member of CEMA's consultative committee.
In the late 1960s, imports of U.S. chicken were hurting retail sales, so in the 1970s, provincial marketing boards sought protection under a national broiler chicken marketing plan.
Competition Bill C-42, described in May 1977, aimed to establish a Competition Policy Advocate that could challenge national marketing boards rulings.
In June 1977, Poultry Industry Council provisional chairman, Edward R. Hoover, wrote that Council operations should be shelved after strong opposition from one particular segment of the poultry industry and its coercive methods.
In Nov. 1977, the Standing Committee on Agriculture in B.C. ruled in favour of forming the Canadian Chicken Marketing Agency
Alberta Turkey Growers Marketing Board officially withdrew from the CTMA on in January 1978 because of high U.S. imports.
The Alberta Turkey Growers Marketing Board sought readmission to the CTMA in April 1979
April 1980: A report from the Committee on Antibiotics in Agriculture was released and recommended as much reduction of antibiotic use in food-producing animals as possible.
Maplewood Processors Ltd., a major poultry processor in B.C., closed down in June 1980, allowing Cargill an almost complete monopoly on the B.C. processing industry.
Technologies
DEKALB AgResearch introduced the XL-Link, a "high performance" white egg layer bred for "high egg numbers and high peaks, excellent livability and good egg size" in 1976.
The "Long Egg" was introduced to Canadians in Copenhagen by the SANOVO Engineering Company in July 1976.
A study from the University of Maine in 1975, detailed in August 1976, investigated the effects of heat stress on caged layers. It found that older birds suffer more, that they take longer to recover and that this problem requires constant management and maintenance.
The use of ultraviolet light versus chlorine treatments to sterilize the water for poultry was debated in March 1977.
---
1986-1995
Trends
R.J. Morris forecast that changes in consumer eating habits would benefit poultry in early 1985, as the steady and increasing demand would require producers to adopt "disciplined financial management" as the main priority.
In the March 1985 editorial, Tony Greaves wrote: "Phew! We came through 1984 with our agencies intact. But only just. I'm aware of at least one provincial government that is actively promoting the withdrawal of a board from its agency. And I hear rumours that there may be others."
Cuddy Food Products of London, Ont., in April 1985 was processing 66,000 pounds of boneless, skinless chicken meat daily to produce 4,568 chicken nuggets per minute to supply all McDonald's restaurants in Canada.
The arrival of computers and computer spreadsheets in April 1985 on the farm was eliminating the need for copious paper records and made putting together information significantly easier.
CEMA cautioned the new Progressive Conservative government in Ottawa in mid-1985 against deregulating the egg industry.
A full-blown free trade deal with the U.S. would wipe out 80 per cent of the poultry production on the Prairies, according to a study by Deloitte, Haskins and Sells in May 1986.
The dramatic growth in the market for processed eggs presented new prospects for the industry but was creating major problems for CEMA in May 1986.
Mould and mycotoxins in poultry feed were found to be a source of significant economic loss in late 1994.
Dr. Peter Hunton of the Ontario Egg Producers' Marketing Board described in early 1995 how computers and the wide range of information now available online will be an "invaluable tool."
Lost Years
The poultry industry went through over half a decade of uncertainty as NAFTA, CUSTA and the Uruguay Round of GATT negotiations went on and on and on …
Those five years of uncertainty may have delayed the day of reckoning, but they did not allow the industry to start its reactive process. The result was delayed construction and renovation and the development of a siege mentality that interfered with normal industry relations. So instead of improving efficiency the delays in renovations have actually set us further behind just when we should be racing to improve our level of competitiveness."
From an editorial by Tony Greaves in Canada Poultryman December 1995.
Firsts
Free trade with the U.S. was put on the front burner once again and poultry producers worried that it would threaten supply management.
The Canada-U.S. Free Trade Agreement (FTA) was reached by negotiators for Canada and the United States on Oct. 4, 1987, and signed on Jan. 2, 1988. Supply management was protected.
The leaders of Canada, the United States and Mexico met in San Antonio, Texas, on Dec. 17, 1992, and signed the North American Free Trade Agreement (NAFTA). The agreement then went on to be ratified by legislative or parliamentary branches.
NAFTA involved Canada, Mexico and the United States. It came into force on Jan. 1, 1994, and superseded the Canada–U.S. FTA.
Tariffication under the General Agreement on Tariffs and Trade (GATT), signed April 15, came into effect July 1, 1995, replacing import quotas that had protected Canada's supply-managed industries.
In 1995, Lyle Vanclief, chairman of the federal-provincial task force on orderly marketing, said that Canada was only allowed to maintain high tariffs because of the national supply-management system.
---
1996-2005
Trends
CFO and AOCP agreed on supply-determination procedure. The new system addressed differences between small and large processors.
In late 1990s start to see more articles on poultry heat stress management and fly and beetle control.
October 2004 – Omega-3 eggs started to become a popular consumer choice.
In June 2005, biosecurity continued to emerge as a trend. and producers were encouraged to continue to keep it top of mind.
Keeping the Wolves at Bay
As in the previous decade, supply management was still the target of much criticism internationally. At the Uruguay Round of the General Agreement on Tariffs and Trade, supply management was left virtually untouched, but the World Trade Organization talks were a more serious threat, with globalization of all goods, including agriculture and food, a hot topic.
Tony Greaves in his June 1998 editorial compared the world oil cartel, and its cutback of production, to orderly marketing in agriculture. "When oil is sold at below the cost of production, the working people bear the brunt of the recession."
AAC Minister Lyle Vanclief pointed out that there was a Canadian dichotomy where some sectors want protection and some wanted liberalization of trade – which made it look as if Canada was talking out of both sides of its mouth at the WTO level.
Through the late 1990s and 2000s, food safety was a common topic in the magazine, taking on many acronyms such as OFFSAP (On-Farm Food Safety Program) in Ontario chicken circles. This was related to another issue that rose up … that of crisis and emergency management planning.
In the early 2000s, succession planning and farming as a family business started to be covered in the magazine as lack of planning became an issue for producers across Canada.
In the mid-2000s, however, the most common article topic was biosecurity – spurred by the low pathogenic avian influenza outbreak in British Columbia, highly pathogenic AI in Asia and Eastern Europe, an infectious laryngotracheitis (ILT) outbreak in Ontario, and the previous AI outbreaks in North Carolina and Virginia. Even advertisements showed the concern.
Issues
In February 1996, Canada Poultryman reported that major outbreaks of Marek's disease had recently occurred in vaccinated flocks of chickens throughout North America. The symptoms and lesions differed from what had been normally seen prior to the advent of vaccination.
June 1996: The SAGE agreement was established wherein producers formally establish a new national marketing arrangement.
January 1998: Transgenic animals are here to stay, declared Dr. Ann Gibbons of the University of Guelph.
The Ontario Chicken Marketing Board became Chicken Farmers of Ontario on March 24, 1997.
The magazine published several articles on integration and how family farms need to look at doing this if they plan to survive in the rapidly changing livestock industry.
The new Poultry Program Team (PPT) was formed, with representatives from the Poultry Industry Council, the University of Guelph and the Ontario Ministry of Agriculture, Food and Rural Affairs (memorandum of understanding). The idea behind it was to support sustainable production, health and welfare for poultry and speak to environmental and economical issues that producers may face.
January 1999: Articles on disease resistance, food safety and antimicrobial resistance appeared in the magazine.
Mid-1999: The Alberta Chicken Producers Poultry Technology Centre opened in Edmonton.
In July 2000, the magazine suggested succession planning is often overlooked until it is too late but producers need to give this a serious think.
In December 2000, a feature about Larry Martin of the George Morris Centre talked about globalization and its impacts on the poultry industry, saying success is derived from meeting customer needs and not dumping surplus product.
In February 2002, Canadian Poultry printed part one (excerpts) of the report into the Walkerton Tragedy, by Justice Dennis O'Connor. O'Connor concluded that the incident was not the fault of the owner of the cattle farm involved, but rather a result of lack of chlorine monitoring in the water supply. Improper operating practices were implicated.
Firsts
The first Poultry Meat Outlook Conference was held in Ottawa in June 1996. It was jointly organized by national chicken and turkey marketing agencies, CPEPC, further poultry processors and national farm products council.
In September 1997, Hybrid Turkeys hosted an open house at the recently completed Mapleglen Pedigree Complex near Ayr, Ont.
In June 1996, Agricorp is created under the Agri-Food and Rural Business Bill, passed in June of 1996. Agricorp will deliver crop insurance and safety net programs.
Spring 1997 saw heavy flooding in Manitoba and producers banded together to provide storage space and growing premises. Flocks shipped early in unaffected areas so that birds in flooded areas could be relocated.
July 1997: FPVQ lobbied the provinces and CFC, saying that the national supply management system had broken up into individual provincial systems at the expense of the nationally co-ordinated agreement
In September 1997, the Poultry Industry Council was created by merging the Poultry Industry Centre for Research and Eductation and the Ontario Poultry Council.
We started to see talk of "technology transfer" and its importance in the industry – that is, sharing of knowledge, research results and technology that can better the industry as a whole.
May 1998: New co-op legislation in Canada was seen as potentially increasing farmers' share of the consumer dollar, but work needed to be done on how to use the U.S. models.
In 1998, a national allocation agreement was signed for Canada (by each of the 10 production boards).
In March 1999, FightBAC was launched by the Canadian Partnership for Consumer Food Safety and Education, a collation of 48 of Canada's major stakeholders in the food sector. The campaign sought to motivate Canadians to fight harmful bacteria by practising critical safety steps when preparing food in their homes.
In January 2000, Canada Poultryman reported that Ontario's small processors have formed an organization called the Ontario Independent Poultry Processors Association to, in its words, fulfil a need to serve new and growing markets.
April 2002: Magazine name changes to Canadian Poultry
April 2002: B.C. chicken farmer Clint Heppell built a barn 88 feet wide to maximize the limited real estate available to him.
On May 29, 2002 (reported July 2002), the Canadian Poultry Research Council opened its doors – CPRC had and continues to have administrative capacity to provide a focal point for poultry research in Canada.
October 2002: The Krahn Brothers in B.C. were first to install an A-frame cage system for layers.
In March 2003, Clark Poultry Ltd. near Hamilton, Ont., built state-of-the-art broiler barns using latest designs and materials.
Spring 2005: Alberta Chicken Producers approved a new market development policy that would allow producers to grow additional chicken for market development when a processor requests the same.
August 2005 marked the first Merial Avian Veterinary Partnership Conference.
January 2006: Ontario Livestock and Poultry Council broke ground in its first year. It was formed to focus on animal health and risk mitigation.
Technologies
In mid-1995, Alltech Inc. of Nicholasville, Ky., introduced Allzyme VegPro, which was designed to improve the digestibility of vegetable proteins in soybean meal, peas, beans and full-fat canola.
The idea of being able to sex chicks before hatch started to show up in research – this was seen as a benefit that would reduce hatch space and animal welfare concerns around disposal of the chicks.
In 1998, the magazine featured an article on ozone treatment of hatching eggs to improve egg hatchability and improve sterilization.
In September 1999, the magazine featured Tina Widowski at the University of Guelph and her research on the effects of new, energy-efficient lighting (high-pressure sodium lights) on chicken performance.
In fall 2000, a new state-of-the-art broiler barn was constructed by Mehrle Farms Ltd. of Manitou, Man. Unique to Western Canada, it was built with self-supporting ribbed, composite polyurethane panelling that had no steel or wood frame.
In March 2002, the Arch McKinlay I-Conveyor was featured. The system was unique in that it moved eggs in a continuous flow without transfer points and also around 90-degree corners.
September 2003: Quebec poultry producers experimented with alternative biological waste disposal methods. A stacked moving belt allowed maximum heat exposure for speeding up the dehydration process.
January 2006: Canadian Poultry explored a solar heating system installation on Ray Heyink's broiler barn in Ontario meant to curb energy prices. A government program offset the cost of the installation by 25 per cent.
---
2006-2013
The Customer is Always Right
In the late 2000s and early 2010s "traceability" became a key word as food safety rose to the fore in the minds of agriculture's governing agencies. Consumers became increasingly aware of where their food comes from and began to want to support local producers as much as possible. Government programs to support this cause started to pop up across Canada, including the Canadian Integrated Traceability Program (CITP), which was worth $1.7 million in 2006.
The development of ethanol-based fuels also quickly created a dilemma in agriculture. Corn, otherwise used as feed, started to be diverted for use in ethanol production – thus driving up the cost of corn and hitting producers' pocketbooks
very hard.
The magazine featured articles about how to save energy in poultry production, and touched on wind energy, proper insulation weather-stripping and proper ventilation.
Animal welfare during transport was also increasingly an issue.
Firsts
In October 2006, British Colombia introduced specialty egg quota for organic, free-range and free-run production.
New research showed that poultry is not as tolerant to mycotoxins as previously thought. Results showed that certain mycotoxins could reduce immune response and result in depressed growth rates, productivity and feed consumption.
The Atlantic Poultry Research Centre opened in July 2007; at the time it was Canada's most advanced research facility.
The British Columbia Poultry/Biosecurity Emergency response initiative promotes adoption of biosecurity practices and emergency response protocols for the poultry industry.
In late 2008, the Quebec egg producers' marketing board offered a start-up program to people wanting to get into the industry that didn't require they buy quota right way. Certain criteria had to be met, however.
A new pathobiology lab for the University of Guelph was completed and was expected to help improve the health of people, animals and the environment.
In November 2010, the first enriched housing system was installed in Manitoba.
Issues
There were some heat stress troubles in early summer of 2007 and producers were encouraged to be more prepared to deal with extreme heat in their barns, for example, by having back-up generators in place.
To this point, post-traumatic stress was often ignored after producers suffered great loss of animal life. Animal disease has a human toll that was slowly being acknowledged and talked about.
Recent consolidation among primary breeders (of layers, turkeys and most broilers) in the world meant that most genetics seemed to originate from two companies by the mid-2000s, and this was causing pricing and supply issues for those buying genetics. This concentration of global poultry genetics resources also had researchers at Agriculture and Agri-Food Canada concerned. In the last 65 years, the world had gone from 300 breeders down to just two, a situation that compromised genetic diversity.
In early 2008, grain prices seemed to be on the rise. World demand had exceeded production for five of the last seven years and supplies were expected to remain tight. This was a foreboding outlook for livestock producers.
Industry groups in Ontario began working together in 2010 to make the workplace safer for chicken catchers and haulers.
Farmers and other members of the agriculture industry were encouraged to be prepared to handle the media effectively and get the right messages out to consumers.
Farm succession planning started to become an issue in agriculture. Family dynamics were predicted to change going forward and there were likely to be different issues and concerns for future generations. Families were encouraged to sit down and talk about plans for their farms.
Food irradiation was introduced in the United States, but consumer acceptance was seen as the stumbling block in Canada, even though it had been deemed an effective tool for removing pathogens.
In 2011, a newly coined phrase, "biosecurity fatigue," became an issue as producers began to tire of hearing about biosecurity.
Based again on ethanol, cost of feed becomes a rising concern in North America, to the point that it is brought to the attention of the U.S. Senate Committee on Agriculture.
In 2012, new educational materials were released to help producers and catchers answer the question "should this bird be loaded?"
Trends
By May 2007, the realization had hit agriculture that there needed to be better preparation for emergencies and highway traffic accidents where animals were being transported. First responders were generally untrained in this area and focus needed to be put on ensuring they know what to do, as these situations were often
very public.
In June 2007, British Columbia launched a new mandatory producer biosecurity program.
On-farm windpower became more common to help reduce energy costs and produce a more "environmentally sustainable" product.
Demand for antibiotic-free chicken was growing, so St. Huberts restaurants wanted to serve it – but could growers supply the demand?
Consumer needs were evolving and placing demands on retailers to differentiate products. Industry had a role to play in helping retailers ensure this demand is met.
After years of "shop 'til you drop," consumers were now looking for value, which was good news for poultry and egg producers. Farmers needed to operate in a way that was consistent with consumers' ideas.
An increasing global population and a growing global middle class meant more opportunities for Canada's poultry farmers but accessing these markets would be complex.
In early 2012, results of a United States survey showed that price was playing a greater role in the meat purchasing decision process.
In the fall of 2012, animal welfare specialist Temple Grandin said that farmers needed to be more observant of the animals in their care and truly understand them.
Jayson Lusk of Oklahoma State University proposed that animal welfare could be improved by having consumers purchase "animal well-being units" via their food choices.
Technologies
A new Chore-Time Modular Manure Belt cage system had implications for reduced aromas and easier breathing in layer barns.
PDA devices allowed producers to control their poultry houses from anywhere, at any time.
A German poultry farmer built a layer barn with a layer of amorphous silicon solar cells on top of the regular roof to help offset energy costs.
Composting started to go high-tech. The new BIOvator is an enclosed composting system composed of a long, hollow steel cylinder with steel paddles mounted on the inside walls, which both mix and slowly move material forward. Deadstock comes out as compost.
In November 2007, a story in the magazine reports the "crackless egg," with a real-time wireless sensor, provides instant identification of trouble spots that cause cracking on egg farms.
Ciemme Apollo catching machines from Italy will allow birds to be caught using a crew of as few as three people, which can alleviate some of the stresses around of the most labour-intensive parts of chicken farming.
In February 2009, an article ran about a new flooring system that could help to curb ammonia, according to researchers at the University of Maryland Eastern Shore campus. The system consisted of interlocking squares, and air funnelling through the holes in the flooring help to keep fecal matter dry.
Food business data management became crucial when an incident such as a food recall happened. It was essential to have the ability so see clearly into product systems and to be able to coordinate data and communicate effectively between levels in the supply chain.
In February 2011, the magazine reports a new vaccine for Newcastle Disease developed by the USDA.
Insta-panel insulation for floors of poultry barns ensured drier floors, and more comfortable and healthier birds.
Live, in-barn cameras allowed producers to view what was going on in their barns from a computer or smartphone device.
LEDs, seen as the lighting of the future, have the potential to cut energy costs significantly and to have greater durability.
In January 2012, new Canadian bio-tech know-how could help to reduce deadly pathogens in raw and prepared meats and poultry products. The Sentinel Bioactive Paper network developed a system whereby phages attached to packaging paper could attack pathogens such as Listeria.
University of Manitoba researchers evaluated the efficacy of a new DNA vaccine for highly pathogenic avian influenza.
The Zephyr stun gun could provide a humane way to euthanize birds. A non-penetrative captive bolt stunner, it is driven by compressed air.
Vital Foods launched the Vita D "sunshine" egg, which provides 100 per cent of a daily dose of vitamin D via a proprietary, all-natural, plant-based feed additive rich in the vitamin.
---
Print this page